Food at Open Tech 2010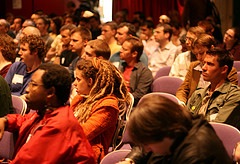 The kitchen will be open serving hotfood from 12:30 until 4:30 (covering both lunchtime and the afternoon break). The Juicebar will also be open serving snacks and Juices. There are vegetarian options. The main bar will open at 11am, and remain open until around 10pm.
For those who remember it being shut last year due to building work, the ground floor shop will be open.