Open Tech 2005 – Exhibitors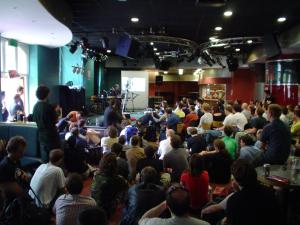 There will be a number of stalls at which you can buy or play with things.
Backstage.bbc.co.uk will have an area where you can talk and discuss the possiblities that their data feeds provide.
O'Reilly, sponsors of the prize draw, will be selling all O'Reilly books at a 30% discount. Any books not available on the day can be ordered with the discount and posted free of charge. Additionally, there will be a book signing by a number of the O'Reilly authors present - see the O'Reilly stall for details.
NTK Mart will be selling their wide selection of injoke T-shirts. Outcasts welcome.
Mark Pawson will be offering a selection from his wide range of zines, comics, artists books, Subgenius stuff, "weird junk", and schwa merchandise.
BBC Research and Development will also be present for discussions of their projects and presentations.