Open Tech 2005
Should places become available on the day, an email will go to the mailing list. Please don't show up without a ticket.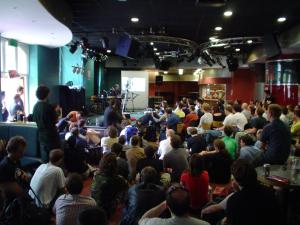 Sponsored by backstage.bbc.co.uk, Open Tech 2005 is an informal, low cost, one-day conference about technologies that anyone can have a go at, from "Open Source"-style ways of working to repurposing everyday electronics hardware.
Taking place on 23rd July, 2005, in Hammersmith, London, the line-up currently features:
The official launch of the backstage.bbc.co.uk developer network, opening up BBC content for you to play with
Jeremy Zawodny of Yahoo! - The Future is Open (or should be)
Ted Nelson, inventor of hypertext
Plus: able to record an entire week of all Freeview TV and radio channels, probably the UK's largest (fridge-sized) PVR
and much more...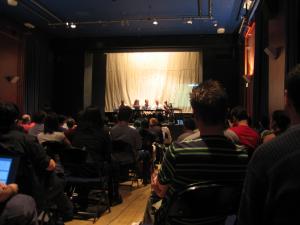 All speakers are now confirmed. The IRC (back)channel for the conference is #opentech on EFNet.
There's a Geek Dinner the night before - it is not part of the conference, but some who are attending the conference are going.
This event's predecessor, NotCon 2004, was an informal, low-cost, one-day conference on things that technologies were perhaps not intended to do.
Audio from talks will be available to download after the event. Video download of most talks will also be available.
This event is possible after support from backstage.bbc.co.uk, and is organised by UKUUG and NTK - the weekly fortnightly tech update for the UK.