OpenTech 2017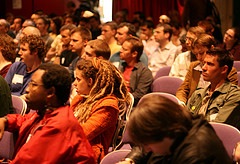 Pre-register your tickets here: http://www.opentech.org.uk/2017/registration.
What's happening at OpenTech 2017
With a month until OpenTech 2017, we're really excited by this year's schedule. As you'll see it's a fantastic, diverse line up of talks by a whole range of people working on issues and projects that really matter, after a year of democracy doing things that it wasn't necessarily expected to do. Go take a look at: http://www.opentech.org.uk/2017/schedule.
Highlights include:
We survived 2016, what about 2017?
Standards for Private Browsing
This is for .everyone
post-FUBAR: what's next?
Privacy: 23 million children
DIY ISP
MicroPython, micro:bit and a Million Children
Design thinking - build it faster
What can deep learning reveal about beautiful places?
Mapping Land Ownership
Periods: a provocation
Open Organs - Post-biological Organ Trade
The future: Hope, Scale, or Change?
All this and much, much more.

Tickets are £5 on the door, but to make sure you get in on the day, you can pre-register here: http://www.opentech.org.uk/2017/

We're already about half booked and tickets are selling fast, so don't miss out. And don't forget to remind your friends - OpenTech is as much about the people attending, as the speakers.

For those who've not been before... OpenTech is an informal, low cost (thanks to The Indigo Trust for sponsoring), one-day conference on slightly different approaches to technology, problems and democracy. You are guaranteed a day of thoughtful, thought-provoking talks leading to lively conversations with friends. Besides the sessions, there'll be plenty of time to talk in the bar which will be open until 10pm.

Switch off, sit back and enjoy the show
As ever, while there is technically some wifi in the building, as soon as we all show up, there will no longer be any working wifi in the building. So listen to the speakers (or your mates in the bar) rather than compulsively refreshing twitter errors, wondering if you should have gone to a different session based on the tweets sent over 4G.

Thanks to sponsorship from The Indigo Trust, those who are students or who work for not for profit organisations get free entry. OpenTech takes place at our usual location - the (formerly known as) University of London Union on Malet St (now known as Student Central). For entry to their building, house rules apply.

If you would like to help make the day as successful as previous OpenTechs, we're also looking for a few more volunteers to help out, email opentech@opentech.org.uk.

Oh, and did we mention? You can pre-register your tickets here: http://www.opentech.org.uk/2017/registration

Your friendly opentech organisers

This event's predecessors, in 2013, 2011, 2010 2009 (audio) 2008- and 2005 were low cost, one-day conferences about technologies that anyone can have a go at, from "Open Source"- style ways of working to repurposing everyday electronics hardware. Before that was NotCon 2004, an informal, low-cost, one-day conference on things that technologies were perhaps not intended to do.

Currently: